Haulover Beach
Haulover Beach Park is a 1.4 mile-long Miami-Dade County beachfront park with a 0.4 mile designated clothing-optional area that was established by South Florida Free Beaches July 14, 1991. Parking is $6 per car. Open approximately from sunrise to sunset.
Please note that on weekdays the direct entrance to the north parking lot is usually closed, but the lot can be accessed thru the boat ramp entrance immediately south. If the north lot is full, go to lot #1.


"Haulover", the name...
Before a storm in the early 20th century opened Baker's Cut to the south of the park, this area was the easiest place to haul boats over between the Atlantic and the Intracoastal Waterway.


Explore Haulover's Naturist Beach
A four-minute video...






Features and Amenities:
Lifeguards, showers, restroom, food and drink stand, chair and umbrella rentals.

Prohibited: glass containers, pets, entry into dunes, nudity outside posted area, misdemeanor lewd behavior (FS 800.03) or felony lascivious offenses (FS 800.04) anywhere (review park rules and naturist beach etiquette).

Handicapped access: parking is free for persons with handicapped tags or plackards. The small lot east of the road by the lifeguard headquarters has nine handicapped spaces, and fills early on weekends. Persons with disabilities parking in the lots west of the road may require assistance to negotiate the stairs from the pedestrian underpasses.

Note: "Borrowing" handicapped identification you are not entitled to is illegal and carries a hefty fine.



Available on the Beach


Deming Design Wheelchair

Amphibious MobiChair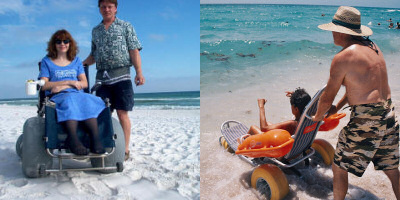 Reserve a beach wheelchair by calling Ocean Rescue (Lifeguards) at 786-336-6990 (additional ADA info available on the B.E.A.C.H.E.S. website)






Learn about Haulover's Beach Ambassador Program here.

Read the history of SFFB and Haulover Beach here. (PDF file)

View the history of SFFB and Haulover Beach in photos here.



Haulover Beach Lodging Information
Getting to Haulover
Please note the tagged location on the map is the park main office, about one-half mile south of the naturist area: 10800 Collins Avenue, Bal Harbour, FL, 33154.
Recommended Routes
(left/right comments refer to driver's orientation)

From the North:

from I-95 head south
exit East (left) onto Ives Dairy Rd
go 1.2 miles to route end, where road slopes up to Biscayne Blvd. Get into right lane well before you approach end because there is a barricade separating the right turn lane
turn South (right) onto Biscayne Blvd (US-1); go 2.2 miles
turn East (left) onto SR 826 (Sunny Isles Blvd); go 1.6 miles to route end
turn South (right) onto Collins Ave (Rt. A1A); go 0.8 mile to first parking lot on right
if entrance closed, continue south until the next entrance on your right
or...
from the Turnpike (route 91) head south until SR 826 (stay left after toll booth)
exit onto SR 826 towards beaches
continue to end, then turn South (right) onto Collins Ave (Rt. A1A)
go 0.8 mile to first parking lot on right
if entrance closed, continue south until the next entrance on your right
From the South:
take I-95 or US-1 north.
exit East (right) onto NW 125 St (SR 922) across Broad Cswy (toll) to Collins Ave (route end).
turn North (left) onto Collins Ave (Rt. A1A)
drive 1.4 miles through Bal Harbour and across bridge to Haulover North parking lot
if North Lot is full, double back (south) to Parking Lot #1
Bus Routes running past Haulover Park
108 (H)—South Beach to North Miami Beach
111 (K)—Downtown Miami to Diplomat Mall (Hollywood)
119 (S)—Downtown Miami to Aventura Mall
For details and route maps go to the MetroBus Websiteand enter the route numbers.